News
Wellington Catholic Social Services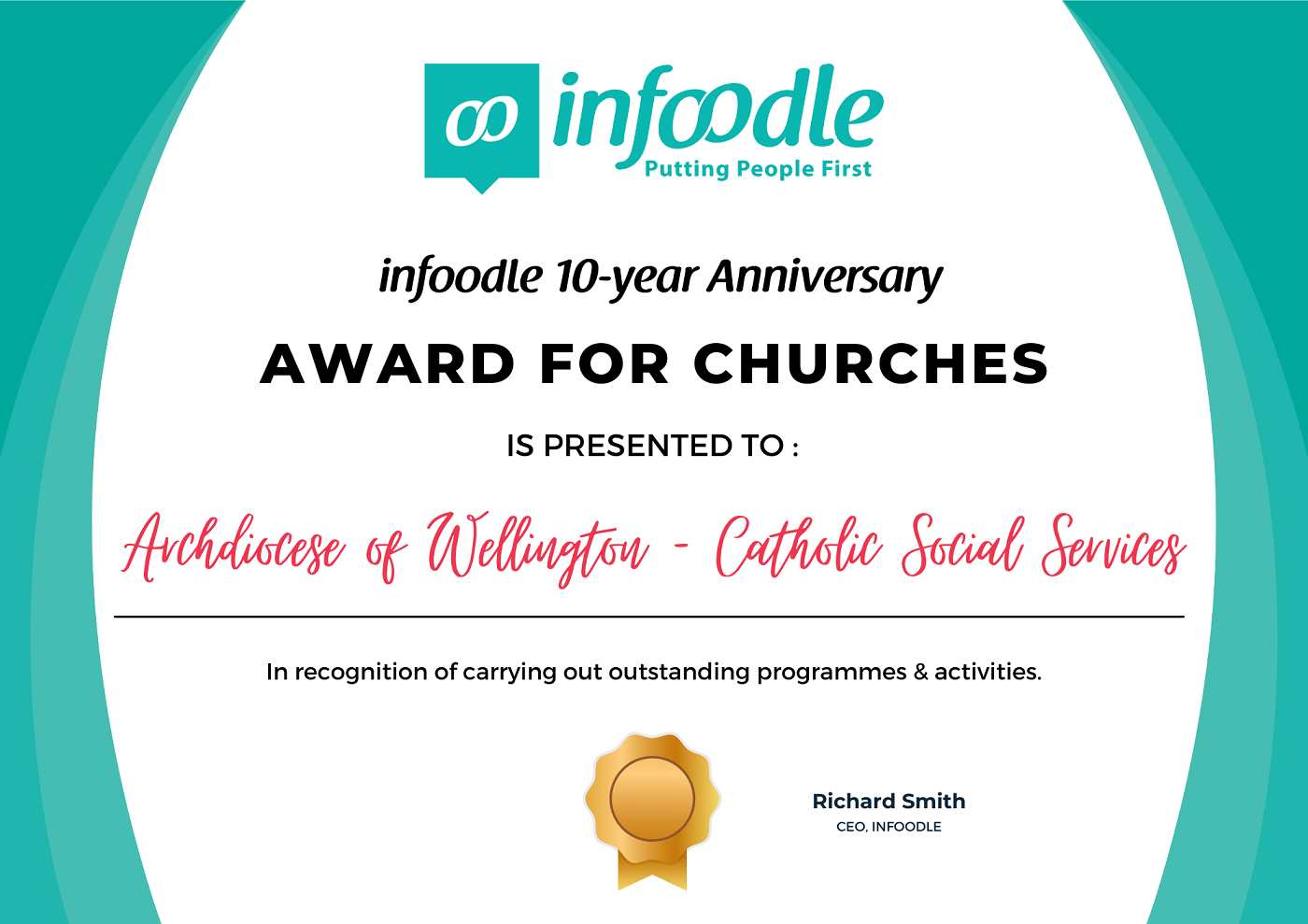 Catholic Social Services recently won the Church category prize at the Infoodle awards.
Karen Holland, manager of CSS shares this message with us all, "Congratulations to all our wonderful volunteers! Thanks to you Catholic Social Services has been awarded the Church category prize at the Infoodle Awards.
This award is all about you and the work you do as volunteers with Catholic Social Services, supporting people in need. This includes companioning people suffering from grief and loss through the Seasons for Growth programme. Advocating at Benefit Impacts, supporting and resourcing the Refugee Resettlement programme by donating time, household goods, pantry items, setting up houses, storing goods in your homes and churches, and financial donations . There is no doubt this Award is intrinsically wrapped up in your generosity.
Please accept our heartfelt thanks for your ongoing support and know there are many individuals and families quietly rebuilding their lives as a result of you."
Karen also shared a message Cardinal John Dew sent through:
"Congratulations to you and the CSS Team for this. It was so good to read that Catholic Social Services has been awarded the Church category prize at the Infoodle Awards, well done to you, the staff and the volunteers."
Read the Infoodle Judges' comments for granting CSS this award below:
Through their application Catholic Social Services showed they are a very well-structured organisation doing really great work across the wider Wellington region. The programmes and activities they shared embody their vision of engaging with all people to help empower them as they live their lives. Their rapid response in supporting Afghan evacuees arriving in New Zealand in August 2021 was a testament to their great community engagement, networking, and ability to work with other organisations to provide immediate and ongoing support. We also liked that they share their resources to build capacity in other organisations.
You can read more about the award on the Infoodle website: https://www.infoodle.com/blog/looking-after-volunteers