Article
Wellington Catholic Social Services
Too many New Zealanders facing housing difficulties
POSTED 13 September 2017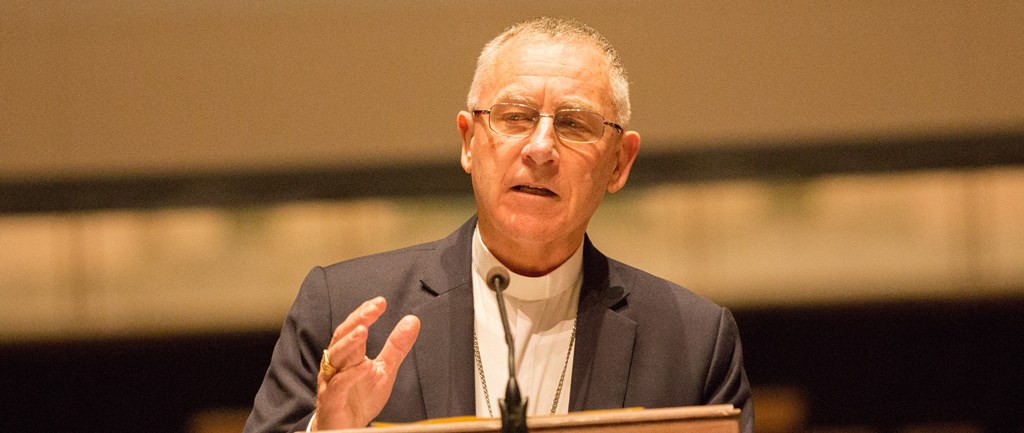 Catholic Social Teaching, based on the dignity of the human being, asserts that everyone deserves respect and protection – everyone has the right to food and shelter.
'Too many New Zealanders are facing real difficulties finding affordable, warm, secure housing,' said Cardinal John Dew at a pre-election housing forum on Wednesday 9 August, organised by the Anglican and Catholic churches of Wellington.
'We cared enough to turn out tonight because we're going to vote on this issue,' Bishop Justin Duckworth advises political party spokespeople. Photos: Jonathan Cutts Photography
Approximately 600 people gathered at the Anglican Cathedral of St Paul to hear from church leaders, political party representatives and individuals directly affected by housing issues.
Housing affordability and accessibility at a crisis level for many is one of the main issues being discussed ahead of the country's general election this month. Many families are unable to afford a home or are struggling to pay rent. There is a lack of social housing and families are sleeping in cars, motels, or poorly insulated and overcrowded accommodation.
The assistant Anglican bishop of Wellington, Eleanor Sanderson, and Cardinal Dew opened the evening. They reflected on what a home means and what the country needs for this to be possible.
Cardinal Dew referred to a recent Yale University study that states, on a global scale, New Zealand has the worst rate of homelessness in the OECD [online at: tinyurl.com/Yale-Homeless-Study].
'As we prepare for this General Election, let's ensure we elect a government that will work to provide housing for all, a government that will provide homes to cater for all living in this country, and create a setting for a dignified life,' Cardinal Dew said.
'Let's ensure we elect a government that will work to provide housing for all,' Cardinal John Dew.
A community health worker spoke about how a single mother, evicted from her rental home for unpaid rent, had been kept in emergency housing for four months being shifted to different motels by the Ministry of Social Development. Another woman read out a letter from an Upper Hutt mother who had a 15-month-old daughter hospitalised six times with respiratory problems and a weak immune system. After finding herself without a home, and approaching Work and Income three times for emergency housing the mother was told in a letter there were more steps she needed to take before she could be given emergency housing. She was told she could sleep in a marae, which was not an option for her daughter, or move to Porirua, away from her support system and family.
Anna, a 24-year-old university student, spoke of the cold, damp and unhealthy living situations for many students and others renting. She said there was inadequate enforcement of existing laws in place to protect tenants, a lack of affordability, and a lack of security of tenure.
Karen Holland, manager of the Compassion Soup Kitchen, shared stories from guests who have experienced homelessness.
Political Party spokespeople included the National Party's Alfred Ngaro, Conservative Party's Leighton Baker, Labour Party's Phil Twyford, The Opportunities Party's Jenny Condi and United Future's Roger Ellis.
Green Party co-leader Metiria Turei was scheduled to speak but had resigned as co-leader just hours before the forum. New Zealand First, Act and the Māori Party were not represented.
Bishop Justin Duckworth, the Anglican bishop of Wellington, closed the forum with a challenge to those in Parliament.
'We're talking about probably the greatest issue facing New Zealanders. For me, this is no longer about housing – it's just simply about do you care? Do you actually care?'
Bishop Justin asked directly of the politicians present: 'can you people do me a favour and take a message to the house next door [Parliament] and say, "we care".
'I want you to know we cared enough to turn out tonight because we're going to vote on this issue.'
New Zealanders will elect 120 parliamentarians for its House of Representatives in the country's general election on 23 September.