Article
Wellington Catholic Social Services
Becoming strong: Thank you event for refugee home preparation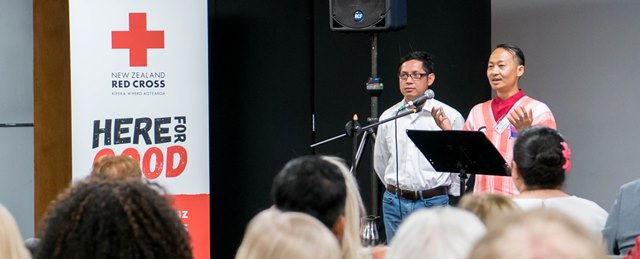 By Lisa Beech, CSS Community organiser and JPD advisor
Former refugee Saw Pone from Myanmar said he had a lot of worries when being resettled in New Zealand. "I worry about how people will treat me when I get to New Zealand. Worry about the new future, how to set up my life, how to connect with a new community."
But after being warmly welcomed at the airport, and arriving in his home, many of those worries went away. "When I arrive in my house, I see everything already set up for my family - [I am] very grateful for those who donate for me."
Speaking through interpreter Joshua Saw at a Red Cross appreciation event on 8 February 2018, Mr Pone spoke to volunteers from church and community groups who have worked over the past two years to set up homes for former refugees in the Wellington region. Working in partnership with the Red Cross, the Catholic and Anglican Dioceses of Wellington have coordinated the setting up of 168 homes for 559 former refugees since January 2016.
Mr Pone said that he appreciated that the churches worked to help refugees without racial, religious or cultural discrimination. "You help everyone, thank you so much for your good attitude and your patience."
He said the support given to him by Red Cross volunteers, as well as the church and community groups, had helped him to grow in confidence in settling into his new life in New Zealand. "They give me love and encouragement so I become very strong in my life. If people around the world have this attitude, there will be peace."
Around 100 volunteers from church and community groups who have collected household, pantry and children's items for households, or have worked together to set-up homes, were present for the recognition of this work by the Red Cross, who presented plaques to representatives of the Catholic and Anglican Dioceses.
Accepting the plaque on behalf of the Archdiocese of Wellington and the many volunteers that have made this work happen, Wellington Catholic social services Director Dave Olivier acknowledged the long tradition over recent decades of working to welcome refugees to New Zealand.
Wellington Catholic social services coordinates this work in the Catholic Archdiocese of Wellington. We continue to seek volunteers to assist with collection of household and pantry items; work as a house set-up group; transport household and pantry packs; and assist with checking and sorting of goods.