Article
Wellington Catholic Social Services
Christmas cheer for beneficiaries
POSTED: 18 December 2017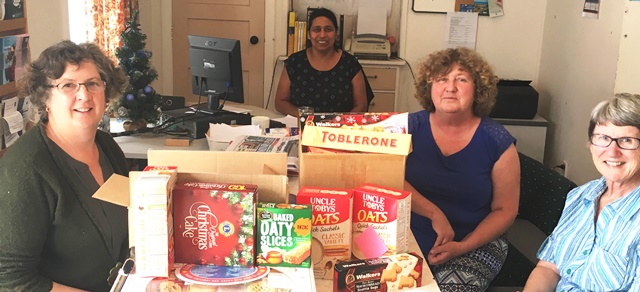 Christmas "treats" collected by staff of the Wellington Archdiocesan Catholic Centre were today delivered to the Hutt Valley Benefit Education Service Trust (BEST) to share with people who attended the recent Naenae Benefit Impact and other Hutt Valley beneficiary families.
Christmas cakes, muesli bars, scorched almonds, mince pies, flavoured oatmeal sachets, and shortbread biscuits were among the contributions made to brighten up the Christmas tables of people on very low-incomes.
Catholic social services community organiser Lisa Beech said the recent Naenae Benefit Impact revealed how little many Hutt families have to live on. "Catholic Centre staff wanted to continue to support for and express solidarity with the people we got to know during the Benefit Impact, through sharing a few Christmas 'treats' that can be beyond the reach of many households at this time of year."
The Naenae Benefit Impact assisted Hutt residents to check benefit entitlements, and assisted around 65 households with disability allowance, accommodation supplement and core benefits. Around half of those who sought assistance were over the age of 65.
Pictured (left to right) with some of the gifts are Hutt Valley BEST advocates and staff Carla, Jeeva, Teresa and Natalie.