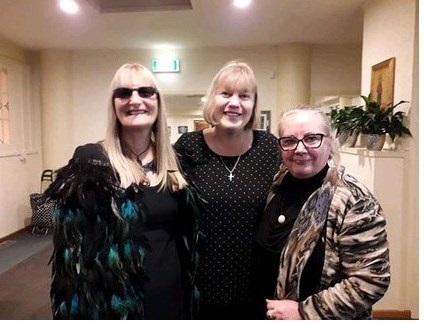 Catholic hospital chaplains are continuing to work from home, connecting with patients and hospital staff by phone and other devices. New skills are being developed to enable hospital chaplains to offer their ministry in a whole new way in our current circumstances.
Wellington Catholic hospital chaplain Lizzie Wootton says they are learning to adapt to new rhythms and routines, at a time when face to face contact is not possible. However, both using people's own devices and hospital phones, she is able to talk to and pray with people in hospital.
She says people in hospital at present can be very isolated from family and other forms of support. "I try to be present to them, because human presence in any form helps with mental health and healing."
For some older Catholics, a regular routine of traditional prayer becomes a way of connecting. With one older woman who had suffered a stroke, Lizzie has been praying with her by phone morning and night. "Each morning and night she got stronger." For another patient, a guided mediation helped to ease anxiety. For some Catholics, lack of access to communion is "a great desert."
"I ask them to put their hand on their heart, and remind them it is like a tabernacle, Jesus lives there. I remind them, when we receive communion we are saying, 'I love you Jesus, you are part of me, and I am part of you."
Lizzie said at first she missed the daily interactions with hospital staff, but is finding that relationships built over time with hospital staff mean that is also able to switch to phone interactions. "When I call the hospital phone operator to be put through to a patient speaking on a hospital line, I ask how they are. When we get put through to the ward clerk, I can speak to them and assure them of support for the day."
These relationships contribute to connecting effectively with patients, family and other staff who are receiving prayer support, spiritual and pastoral care. "The relationships you form and people you meet comes to fruition at a time like this."
Chaplains who are part of the hospital ecumenical chaplaincy teams support each other, in their ministry, and also link in with the Catholic priests on call at regular intervals to ensure they can support each other, working as a team for the wellbeing of patients, staff and each other.
Hospital chaplains can be contacted through through hospital phones:
Wellington and Kenepuru hospitals: 04-385-5999
Hutt hospital: 04-566-6999
Nelson hospital: 03-546-1800
Wairau hospital: 03-520-9999
Wairarapa hospital: 06-946-9800
Palmerston North hospital (including Ōtaki and Levin): 06-356-9169